Contextual Language, Autism and Wordless Books
H.'s most recent assessment showed that one of her weakest areas is the context of what's happening in an a picture (instead of just mentioning the main subject pictured).
The Speech Language Pathologist and I decided to use wordless books to help build Hannah's skill in this area.  I'm a bit ashamed to admit that before this,  I'd thought that wordless books were kind of a waste of time, or just fluff.  (Not that I don't love beautiful images, I do- I just didn't see the power in a story without words.)  I've come to love the way that the images in wordless books tell the story, instead of just supporting the words like happens in a typical picture book.  I think this can be really powerful for young kids who are stronger visual learners than auditory learners, which makes them valuable for lots of kids- not just kids with ASD.
There are a few great posts that talk about how wordless books can build language skills.  My favorite is:
http://www.rustyandrosy.com/parent-resources/blog/2013/02/the-value-in-wordless-books/
as well as this one:
http://www.smartspeechtherapy.com/in-case-you-missed-it-and-now-on-the-value-of-wordless-picture-books/?utm_source=feedburner&utm_medium=feed&utm_campaign=Feed:+SmartSpeechTherapyLlc+(Smart+Speech+Therapy+LLC)
Some of the wordless books we've liked are:
Flotsam   I hadn't expected my older kids to be interested in the wordless books, but we all are fans of this one!  This book has a few unexpected turns that delighted everyone of us.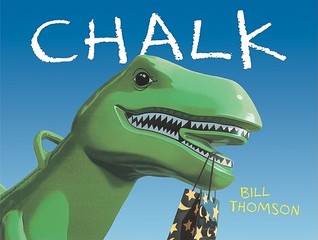 Chalk- Another imagination-come-to-life.  Even though none of my kids are infatuated with dinosaurs at this point, we still really enjoyed the flight of imagination captured in this book.
Where's Walrus?
Journey by Aaron Becker
In this beautiful book, a girls boredom and magic marker leads her on a magical journey.  I had a hard time sending this one back to the library when it was due!
I'm off to request some more wordless books for the next month of Hannah's therapy.  Do you have a favorite wordless book?